Annandale War Memorial – Johnston Street Annandale
The war memorial at Annandale is in the form of a hybrid obelisk / cenotaph that incorporates curved seating. The memorial was the result of an architectural competition drafted and judged by the NSW Monuments Advisory Board in 1920. The architect R. Keith Harris won the first prize of 15 pounds with second prize of 10 pounds going to John D. Moore.The memorial was unveiled in February 1921. The monument comprises a central obelisk / cenotaph rectangular in plan and flanked by seating curved forward in quadrant plan. The seats terminate in two pedestals upon which were mounted two electric lamps (now missing) in the form of eternal flames. The structure is built from Bowral Trachyte.
Names of the 87 local dead are inscribed on the front face of the central element with a bronze panel fixed to the front face below these names. On the rear face of the monument is carved in large letters 'To The Immortal Dead'.
The memorial cost 1,250 pounds and was constructed by the builder F. Gagliardi. The memorial is unusual in including a 'plot of remembrance' near the memorial, this is a ersatz grave which allowed mourners to remember their dead at a more personal level.
The memorial includes the name of Private Robert Watson of 169 Trafalgar St, Annandale who enlisted at Annandale on 12th February 1917 several days after his 15th birthday. He was born in Annandale in 1902 and attended Annandale Public School. He was killed in action one year later on 24th March, 1918 aged 16 years and two months.
References; Architecture 20 April 1920, p.106; Construction 30 March 1920, p.3; Art in Australia, 2 May 1922, p.69.
Annandale, New South Wales. A WW1 War Memorial built in 1921.
Annandale, New South Wales. A plan of a WW1 Memorial which was to built in early 1921.
Ashfield Memorial
A grateful tribute from Ashfield to the brave soldiers sailors and nurses who volunteered and gave their lives in the great war 1914 – 1919
Unveiled by his Excellency Sir Walter Davidson K.CM.G. Governor of New South Wales 26th Nov. 1921
Peace Worthy are they of a crown of immortal fame and glory
In memory of the men and women who gave their lives in the Boer war, World War 1, World War 2, Korea, Malayan and Vietnam on land, sea and in the air Liberty
Erected by Ashfield council in memory to polish men and women who gave their lives in the cause of freedom and in appreciation of service to the community given by the polish ex-servicemen's association 2nd September 1984
These rosemary bushes have been planted by Ashfield council in memory of those who gave their lives in the Boer war, World War 1, World War 2, Korean, Malayan and Vietnam wars.
Balmain Loyalty Square
This is possibly Australia's first memorial to WW1 soldiers, unusual because it lists only those killed in action prior to the involvement of the AIF on the Western Front in France.  It was unveiled on 23 April 1916 just before the first anniversary of the Gallipoli landing to record the names of soldiers form this district who have fallen in the service of the Empire. It was the subject of a Balmain Council design competition in 1915.
A functional structure it was built as a drinking fountain with a circular base and steps of Bowral trachyte and a four sided superstructure of Pyrmont Sandstone.  Balmain's dead 38 at the time of its completion are honoured on four marble tablets, below which are four bowls . It is interesting that on later honour roll honour in the Balmain Town Hall there were then 1500 names of serving soldiers.
Source: Sydney's Hard Rock
Story by Robert Irving,
Ron Powell and Noel Irving
Why Balmain became the site for one of Australia's earliest war memorials is unknown. However, at the time of the memorial's unveiling, Balmain was a working-class suburb whose main industry came from its busy docks. At the outbreak of World War I the    population of Balmain stood at around 32,000, with approximately 5,000 men eligible to enlist. Nearly all of these men did enlist, and considering the physical nature of the main industry of Balmain at that time, their absence would have been sorely felt. Apparently without prompting from any military or civil central authority, the local council allocated £200 for the monument, while four local businessmen volunteered to pay for the marble tablets. Funds also came from local residents, and the design was created by a soldier from Balmain.
Dictionary Of Sydney: Balmain Loyalty Square
Leichhardt Memorial 1920
Leichhardt, New South Wales. A WW1 War Memorial built during 1920 in front of a council building.Leichhardt's first Memorial was originally located on the corner of Marion and Norton Street before it was relocated in 1949 to Pioneers Park (previously Balmain Cemetery)
The magnificent figure of peace was designed by Gilbert Dobel, it is a grey marble obelisk surmounted by 3 steps and the figure of a lady at the top.
The memorial commemorates  the names of 379 men who fought in World War 1 with a total of 537 names for the Boar War, World War 1, World War 2. The memorial was dedicated on 9th April 1922.
The memorial commemorates World War 1 and World War 2 Inscription:
Erected by the citizens in grateful remembrance of the
MEN of LEICHHARDT
who gave their lives
for God, King and Country
in the Great War
1914 – 1919
"They died that we might be free"
The Winged Victory – Marrickville 
Marrickville's Winged Victory rose once more out the front of the Town Hall in time for the Gallipoli Centenary in 2015. About 800 people marched down Marrickville Road on Sunday 19 April 2015 to mark the centenary of the ANZAC landing at Gallipoli. The statue was unveiled on the forecourt of Marrickville Town Hall after the march. The Melbourne-based company Meridian Sculpture was commissioned to create the 2015 statue. Lead sculptors Peter Corlett and Darien Pullen formed the statue using cast bronze. Reflecting and respecting the original design by Doble, only subtle changes were made, most notably the position of the sword. Instead of being raised in triumph, it now points towards the ground to touch the earth ('earth to earth, ashes to ashes' etc.) This gesture symbolises peace and sacrifice. Nike's sword is at rest in the new interpretation.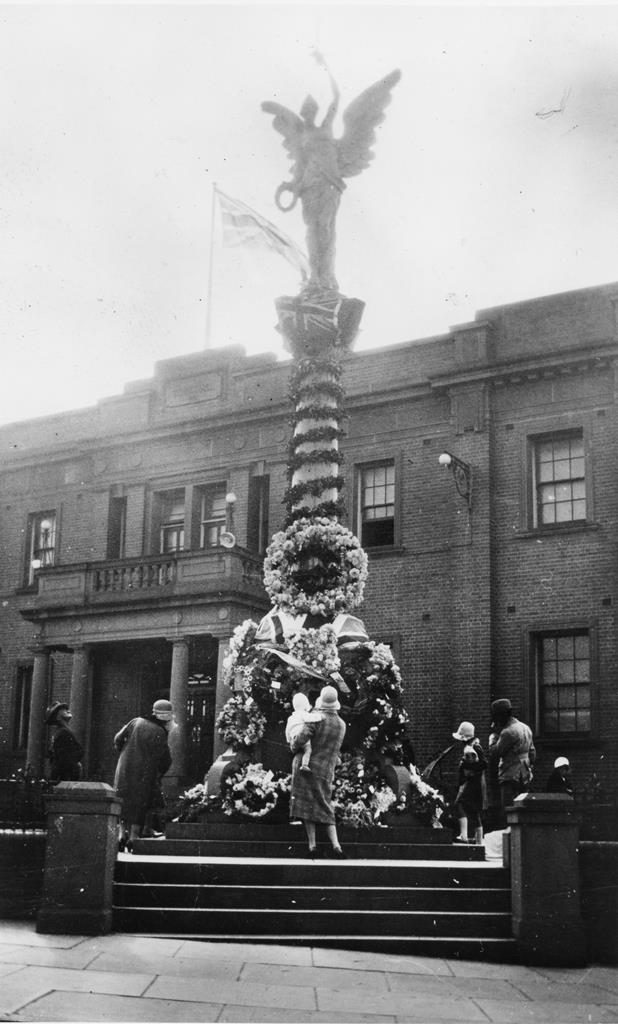 The original Winged Victory was commissioned by Marrickville Council and created by sculptor Gilbert Doble in 1919 as a WWI Memorial and was first unveiled before a crowd of 15,000 in 1919. The statue represents Nike, the winged Greek goddess of victory, and commemorates the more than 450 Marrickville residents who died in World War I (6,500 local men enlisted to go to war: husbands, brothers, sons, work mates and friends). The top half is now a prominent object on display at the Australian War Memorial in Canberra.
The Inner West had the following number of enlistments
Ashfield                 776
Marrickville          1780
Dulwich Hill          446
St Peters               708
Tempe                  113
Newtown             2030
Petersham           998
Camperdown      716
Balmain                1279
Leichhardt           1554
Lilyfield                100
Rozelle                 770
Annandale           775
Hurlstone Park    122
Haberfield            442
Enmore                427
Croydon                860
Croydon Park        59
Sydenham           105
Summer Hill        462
 Total                   14,522
https://www.discoveringanzacs.naa.gov.au/
Rozelle War Memorial
Rozelle Tramway Depot
The War Memorial at Rozelle Tramway Depot which was one of the memorials erected by the NSW Government Tramways.
ROZELLE TRAM DEPOT WAR MEMORIAL
WAR MEMORIAL
ROZELLE TRAMWAY DEPOT
A STATUE UNVEILED
Yesterday afternoon official regulations were relaxed at the Rozelle Tramway Depot, and visitors were allowed to witness the unveiling of a war memorial in the form of a statue. Seats were provided on the well-kept lawn tho centre of which the monument to Rozelle tramway men, who have fallen, was covered hy a Union Jack. Wreaths were placed at the base of the monument. Sixty men of the Rozelle Depot formed a guard of honour, and tho Massed Tramway Inter-Depot Bands were in attendance, under Bandmaster K. Davidson, and tho secretary, Mr. T. M'Master.
Mr. W. Phillips, Depot Master, presided and on tho improvised platform were Mr. T. Keegan. M.L.A., Military Chaplain, tho Rev John Boardman, Mr. E. J. Doran (Tramway Traffic Superintendent), Mr. C. H. Neale (Assistant Tramway Traffic Superintendent), Mr J. Hermann (Outdoor Superintendent), Mr. H. Mark (District Superintendent), Mr. T. Perk (District Superintendent). Mr. J. M'Cartly (President of the Tramway Union), Mr. Heydon (Depot Master, Dowling-street), Mr David Ford (hon. secretary Rozelle Tramway Monument Fund), Mr. Claude Thompson (secretary Railway and Tramway Service Association), and others.
The chairman said he was sorry that the Governor was not able to unveil the memorial. He had received a lotter from his Excellency expressing his regret, and letters of apology from tho Chief Commissioner, Mr. Fraser, tho Commissioner for Tramways, Mr. Milne, and the Secretory for Railways, Mr. Spurway. Tho memorial was in honour of six men who had given their lives for Australia while fighting under tho Union Jack. There were 150 of the Rozelle depot men at the front, and many others had volunteered. Altogether over 900 men from tho traffic branch of the Tramway Department had enlisted. The monument had been designed and executed by Mr. E. M'Gowan, a young sculptor, now resident in Sydney, who was a King's Prize-winner at South Kensington, and tho winner of the Taylor Art Scholarship at Dublin.
Tho unveiling ceremony in which Mrs. Doran was assisted by Mr. Keegan, M.LA., showed the figure of an Australian soldier just having fixed bayonets.
Tho inscription on the front tablet is as follows:- "Glory to God. Honour to the dead. To the memory of the men of Rozelle tramway depot, who gave their lives for their country in the Great War, 1914-19-. Erected by their comrades." The names on the tablet are G. V. Sandilands, W. G. Robertson. H. Chadwick, F. Beck, T. A. Stewart, and J. G Bell.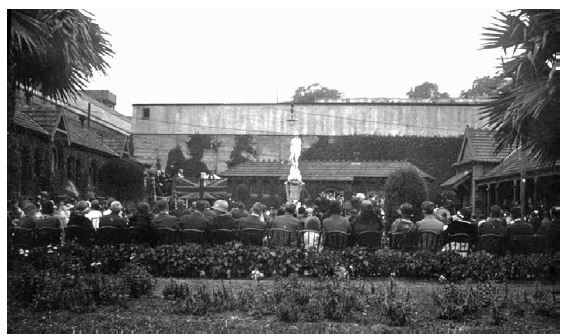 The Sydney Morning Herald, 27 November 1916, page 9
Dedication of the Rozelle Tram Depot War Memorial on 26 November 1916 drew a large crowd. (collated and written by Ian MaCowan.
VC Solomons coll
ROZELLE RECREATION CLUB ROLL OF HONOUR
Recreation clubs were formed at tram depots to cater for social and sporting activities. The Rozelle Recreation Club affiliated with and became a branch of the Railway and Tramway Institute on 24 November 1917.
No record of the unveiling of the Rozelle Recreation Club's Roll of Honour has been found.
This Roll of Honour is now located at Leichhardt Bus Depot.
Photo by Ian MacCowan.
For further information on memorials and service man of WW1 please email