Well A day to remember as a few thousand Sydneysiders took up the invitation for guided tours through the 1917 White Bay Powers Station. One of the five Sydney Power stations -Ultimo, Pyrmont, Matraville and Balmain which used to power Sydney. The stations main purpose was to provide electricity to the city's railways and was also used as a backup power source. It was gradually closed down through the 1970s but was fired up during power shortages in the 1980's. The rustic charm of the station which is situated on 38, 000sq m on the corner of Victoria Road and Mullens Street has been used over the past few years as a hot spot for photographers, artist and film makers alike. The Sydney Foreshore Authority opened the station on February 26th to encourage people to submit ideas for possible future uses. Previous suggestions include turning it into an arts hub or a green energy station.  Other alternatives suggested too take look at other power station conversions such as the Powerhouse Museum, The Brisbane Powerhouse or Canberra Glassworks, which was converted from Kingston Powerhouse. Recently, the plans for Sydney Metro included a station emerging at White Bay Power Station. But these are all speculative. White Bay power station sports some remarkable spaces for future use with rooms that have high ceilings which reach 6 levels,  large open spaces which used to operate as coal handling rooms. A unique and  sweet 1950s mural clad entertainment room with small stage and an old billiard table are also part of the structure.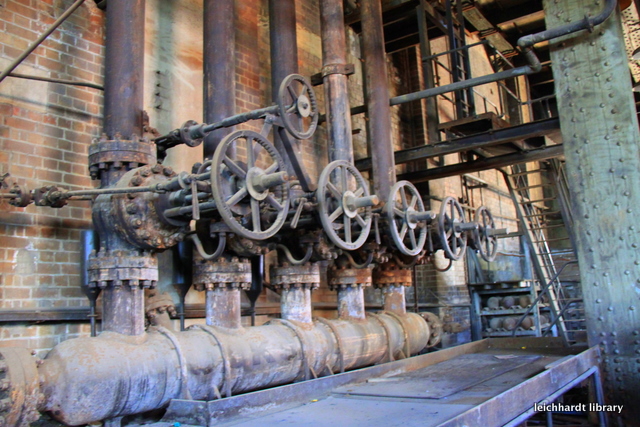 For More Heritage information on White Bay Power Station check out: http://www.shfa.nsw.gov.au/sydney-About_us-Our_heritage_role-Heritage_and_Conservation_Register.htm&objectid=4500460
for a good blog entry on White Bay Power station visit Champ De Foin
and http://www.dictionaryofsydney.org/entry/white_bay
for more history on the White's Bay power station including oral histories come & visit us in the Local History Room at Leichhardt Library.
Opening Hours Monday & Friday   10am-1pm Tuesday & Thursday   2pm-5pm Wednesday 5pm-8pm.