Monthly Archives:
April 2023
People and places: Chrys Meader's history of Marrickville
By Sue Castrique ©
It took several readings before I came to understand the significance of the cover of Marrickville: Rural Outpost to Inner City. The photograph shows Marrickville Town Hall being opened in 1922. On first glance the photo perfectly captures the book's subject, but while the new town hall is imposing, within the ring of bunting and onlookers stands Winged Victory, her pedestal wreathed in garlands, her sword lifted to the air. This was the statue Chrys Meader tried so hard to save.
Chrys Meader and Richard Cashman wrote Marrickville: Rural Outpost to Inner City in 1990. Its companion Marrickville: People and Places was published four years later in 1994 with a third writer, Anne Carolan. Originally conceived as a single volume, they were split into two to make it easy for publication and readers. They have been essential local histories ever since.[1]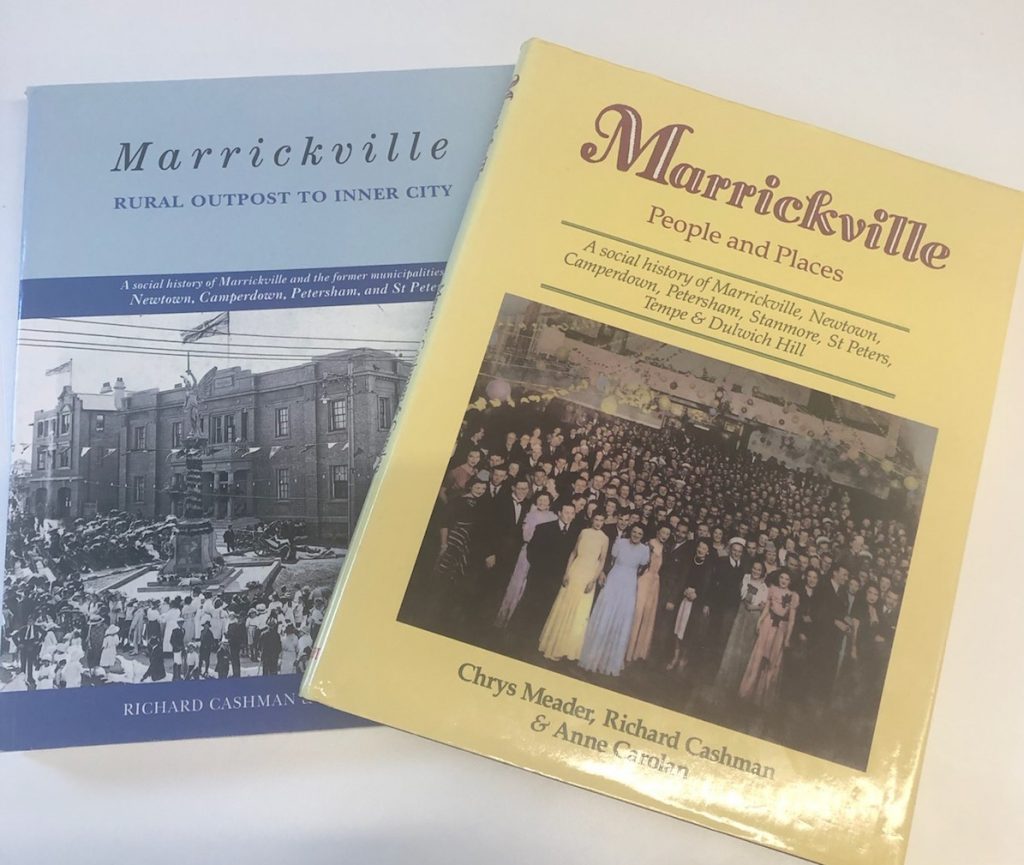 In significant ways Marrickville Council housed, defined and nurtured this history. Richard Cashman was a Marrickville councillor from 1980 to 1982 and Chry Meader a council librarian. They drew on an archive created over decades by Frances Charteris, the Chief Librarian at Marrickville Council from 1955. Frances had a keen historical consciousness and created the Local Studies Collection with community donations, records and photographs and the Archives Reference Collection from original council documents. Chrys continued to care for and add to the collections, retrieving valuable council documents from storage rooms, lofts and the 'rat poison room'. Here was a gold mine of material bursting with all the small necessary details that are the backbone of historical research.[2]
There were not just printed documents. The library was a community hub for people and stories. As Diane McCarthy remembers, people dropped into the library to borrow books, but then stayed to talk, sharing memories and telling stories about where they lived and how they came to be here. This was a local history created from local archives and memory.[3]
Marrickville was defined in Cashman and Meader history by its political boundaries. They set their work within the local council of Marrickville which by 1990 had merged with the councils of Camperdown, Newtown, St Peters and Petersham, creating a sprawling local government area that stretched from Cooks River to Annandale.