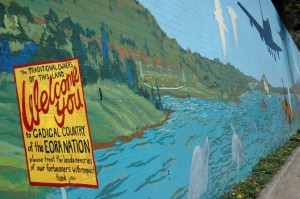 Welcome to Local Notes, the weblog of the Inner West Community History and Heritage team who are based at Ashfield, Balmain, Marrickville and Leichhardt Library in Sydney's Inner-West.
What is our stock-in-trade, you may ask? It can vary from hour to hour, but on any given day we could be:  helping members of the public access historical information on pretty much any aspect of the suburbs that fall within the Inner West Council area: Annandale, Ashfield, Balmain, Balmain East, Birchgrove, Dobroyd Point, Dulwich Hill, Enmore, Haberfield, Leichhardt, Lewisham, Lilyfield, Marrickville, South Marrickville, Petersham, Rozelle, Stanmore, St Peters, Summer Hill, Sydenham, Tempe Inner West Council includes parts Ashbury, Camperdown, Croydon, Croydon Park, Hurlstone Park and Newtown.
Each year we answer over 3000 queries from the public.
We undertake historical research for paying clients also – our paying clients have included heritage consultants, people with connections to the area living overseas or interstate, journalists and real estate agents, among others.
Balmain Co-operative Store, Montague Street, ca1910
Part of our job is to source resources, which could be digital photographs or hard copy maps, CDs or DVDs, artworks or books that tell a story about the local area; we add these to the Local History collection held at Ashfield, Marrickville, Leichhardt and Balmain libraries, and this is when we do traditional 'librarian' work (such as cataloguing and indexing) so that people (including ourselves!) find things effortlessly when they visit, call or email us searching for answers to their burning historical questions.
We are also active in collecting oral histories – recording the memories of people's unique life experiences because often the only way to find out about the past is to ask someone who knows about it! Check out the directory of the National Oral History Programme for a summary of our oral history collection; many of these interviews are done by a great team of volunteer interviewers who have been trained in the practice of oral history, but we get out into the community and do interviews ourselves too.
We look forward to hearing your news, views, opinions and memories – for it is collaboration and cooperation that make blogs interesting places to be!
IMAGES:
– Annandale mural, The Crescent, Annandale, 2006
– Darling Street, Balmain, ca1890s
In the event that you wish to reproduce, store, transmit or alter the material which appears on the Leichhardt Local History Blog, for a purpose other than personal, in-house or non-commercial use, you can apply for formal permission by contacting Local History at Leichhardt Library.
02 9367 5817 OR history@innerwest.nsw.gov.au
Blog Entries are compiled and edited the Community history and Heritage team of Inner West Council
Inner West Library and History Service