Alice St Newtown: the birth place of Australian Rocking Horses
Alice St Newtown holds a very significant place in Australian history as this is where 32 year old Frederick Roebuck started the first known Rocking Horse business in Australia around 1880 and what was to be the largest and best known (actual house number still to be confirmed but was between 132 and 144 Alice St).
The Roebuck family is one of the oldest Rocking Horse makers in the world; they span four generations over three continents. The Roebuck family had been making Rocking Horses since the 1800's in England.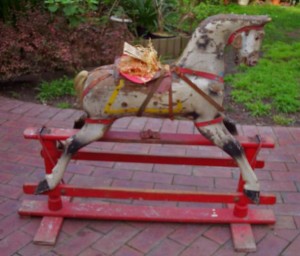 Frederick's Father; John Roebuck started making Rocking Horses along side Paul Leach; a well respected British Rocking Horse maker of the 1800's before starting his own Rocking Horse business in London in the mid 1800's where he was listed as a Master Rocking Horse maker. This is where young Fred mastered his craft; under the watchful eye of his Father.
Early records show the acceptance of a Rocking Horse in 1865 for the young Duke of York by King Edward VII made by John Roebuck.
In 1865; John Roebuck closed his Rocking Horse business and migrated to New Zealand to take part in the Maori Wars. It is unclear why he chose to make this move; but what is clear is it robbed the family of the distinction of being classified as English Rocking Horse makers. This loss turned out to be Australia's gain.
Whilst in New Zealand; Frederick was married and had 3 children; he then moved via Melbourne to Alice St Newtown where he had another 6 children (there is no record of him making Rocking Horses in Melbourne). He started out building Rocking Horses from a shed in his back yard.
His business grew and he eventually moved the manufacturing to George St Brickfield Hill (the site where the Regent Theatre was later built); he would carry a finished Rocking Horse on each shoulder and hand deliver them to his customers; Anthony Horderns and Hoffnungs Wholesalers.
Around 1900, he then moved his manufacturing to 256 Norton St Leichhardt and bought a residence at 43 James St Leichhardt which backed onto the Norton St factory. His youngest son Stanley; trained by Fred to carve still using the traditional way by using nothing but hand tools eventually took over the operation on the business, Stanley trained his sons Fred and Norman who would eventually take over the business from him.
The Roebuck family also built and operated Carousels around Australia; his eldest son Percy (also living in and around Alice St) operated the Carousel at Manly till around the 1920's
On September 14, 1932, Frederick Roebuck  the Father of Australian Rocking Horses breathed his last breath in his house at 1 Grove St Dulwich Hill (corner of Hill and Grove Streetss)
During the war years they carried out many Defence contracts including collapsible army boats for troop transport, Kayaks for commando exploration work, packing cases for the G36 hand grenades and P54 bombs.
After the war the Norton St factory  run by Stanley's sons Frederick James (FJ) and Norman; became merchanised where they traded mallets and chisels for copy lathes. During their peak they employed 30 staff and would produce up to 2,800 Rocking Horses a year and other wooden toys. They were also making the wooden components for Cyclops toys. The factory eventually closed in 1972 to make way for fiberglass copies.
Written by Jamie Hall 2011
If anyone has photographs of the old factory at 256 Norton Street please email localhistory@lmc.nsw.gov.au.