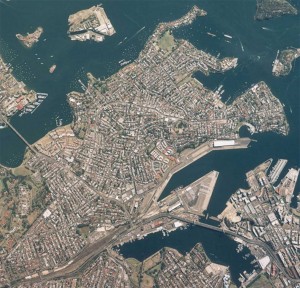 Wherever waters rise or fall, there is a story. . 
ELLEN  WILLIAMS
Remembers time spent as a teenager at Leichhardt Baths, on the site of today's Leichhardt Park Aquatic Centre
 "They were wooden tidal baths. They were very nice at high tide but they were a little bit on the nose when it was low tide. … We used to have our races every Sunday morning, and when we had the carnivals … it used to get packed with people coming down to see us."
 ——————————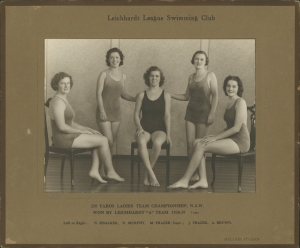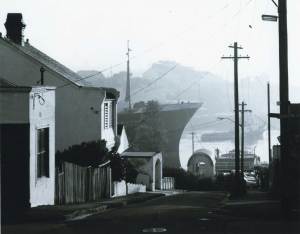 HOWARD  HORWOOD   
On working at Mort's Dockyard, Balmain in the 1950s
  "I've seen some terrible accidents on the waterfront … I've seen a couple of guys fall into the Dock and killed. … You'd see a hell of a lot of accidents on the waterfront … It was part of the game."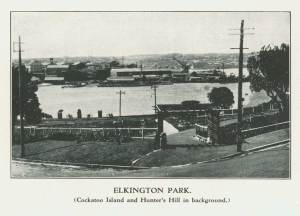 ———————————
 ROSE WALKER
On Balmain's foreshore in the 1930s and '40s
 "We used to go down to the small beach that was down at Birchgrove Park. We'd paddle in the water and go and watch the 18 footers go out of the boat sheds, they'd be all decked out to go down the harbour to sail in the races on Saturdays and Sundays, that would have been in the late '30s.
 As far as I know, most of the boat sheds are not there now – on one side of the bay units were built, the boat sheds were pulled down and they built these new units. We used to walk down Louisa Road, through the park and go down to Long Nose Point. We'd spend the afternoon watching the boats go off; they used to sail them around Cockatoo Island, this was during the early parts of world war 2.
 Down at Elkington Park we'd see the American war boats going in to Cockatoo Island for repairs and you'd hear them playing all the latest American songs, like before they were released here. "Deep in the Heart of Texas" was one song I remember. We'd sit in the park and you'd hear these songs coming across the water from Cockatoo. You know, I've been to Singapore and to Hong Kong, and I still believe Sydney's got one of the best harbours in the world."
 We want to hear from you – share your stories of life at the water's edge in the Annandale, Balmain and Leichhardt area with us! – simply post your memories below. .