Oral history is the recording of memories of people's unique life experiences. Often the only way to find out about the past is to ask someone who knows about it. Through oral history the past comes alive.
THE COLLECTION
Since 1997 we have interviewing people to capture their memories of living and working in the area in earlier times. Interviews are conducted by volunteers, local history staff and oral historians that are funded through Leichhardt Council's Local History Grants programme.  At present 120 interviews are held in digital format and will be going online later this year.
WHAT AREA HAS BEEN COVERED BY THE INTERVIEWS?
The Oral History Collection covers all parts of the Leichhardt local government area, which comprises the suburbs of Annandale, Balmain, Birchgrove, Leichhardt, Lilyfield and Rozelle. Between 1968 and 2003 the suburbs of Glebe and Forest Lodge also came within the Leichhardt area, so the collection includes interviews relating to those suburbs undertaken between 1997 and mid-2003.
WHO HAS BEEN INTERVIEWED?
Interviews have mostly been with people who have had a long association with the area. Some of them grew up in the area and went to school here and tell about their memories of childhood and growing up. Others worked in local industries and remember their working lives, working conditions, etc. Some owned small businesses in the area. Many interviewees have useful and interesting comments to make about social conditions in the area during the Depression, about jobs and industries which have now disappeared, and about local businesses and corner shops which are no more.
WHY INTERVIEWS?
Hearing the voices of people who actually experienced the times they are describing makes history come alive in a unique and fascinating way. Their reminiscences greatly add to our understanding of the social history of the Leichhardt area, and in many instances, if these memories had not been recorded they would now be lost forever. People can often be much more interesting than documents, and they often have anecdotes to tell which will not be found in the formal records.
COLLECTION HIGHLIGHTS
The Fishermen of Iron Cove
A collection of 12 interviews undertaken by oral historian Annette Salt in 2006 with the Italian fishing community of Iron Cove
Rozelle Hospital Project
11 interviews undertaken by oral historian Roslyn Burge in 2008/9 with former workers of Rozelle Hospital and its parent institutions Callan Park Mental Asylum and Broughton Hall Psychiatric Clinic.
Transforming the Local
20 interviews  by oral historian Paula Hamilton and community volunteers on social and cultural changes in the Balmain area since the 1960s. Interviewees included long-term residents and those who moved into the area in the1970s and 80s. More information on this project can be found at www.transformingthelocal.net.au
Leichhardt's Environment
10 interviews undertaken by the library's local history staff and community volunteers on environmental change. Interviewees included bushcare and community garden volunteers, local environmental activists and Leichhardt Council staff such as planners and engineers.
With My Heart On My Sleeve – the Weroona Life Stories Project
11 interviews with residents of Weroona Nusing Home, Lilyfield.
Saving 2.6
Our current project exploring the experiences of local residents who fought to save Ballast Point  -a 2.6ha headland in Birchgrove- for community open space.
For more information on our oral history collection and projects contact us at localhistory@lmc.nsw.gov.au or telephone 02 9367 9266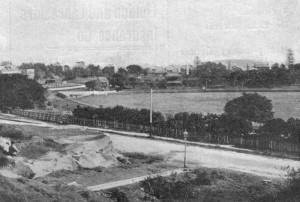 Saturday 21 May, 2-5pm
Take a guided walk in Birchgrove with the Australian Garden History Society
and discover two ex-industrial sites that are now contrasting harbour-side
parks: Mort Bay Park and Ballast Point Park, along with a couple of
enchanting private gardens, in very diverse locations.
For more information:
* Cost: $25/ AGHS members $15, includes light refreshments and notes
Bookings essential: Jeanne Villani, 9997 5995 / Jeanne@Villani.com
www.gardenhistorysociety.org.au /branches/Sydney