History Week Talk: How I publish my Short Walk Books Print on Demand: The new Publishing Paradigm.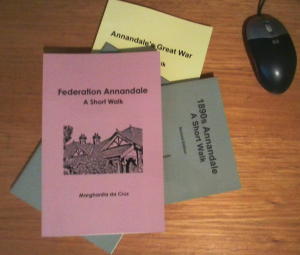 Annandale Author Marghanita da Cruz will take you through the process of publishing her series of Short Walk Books: 1890s Annandale, Federation Annandale and Annandale's Great War.
When: 10am-11am Thursday 12 September 2013
Where: Leichhardt Pop In Space, 124 Marion St.
Cost: Free
Bookings preferred: Tell us you are coming https://how-i-publish-my-short-walk-books.eventbrite.com.au/
Ramin Communications Pty Ltd
Phone:(+61)0414-869202