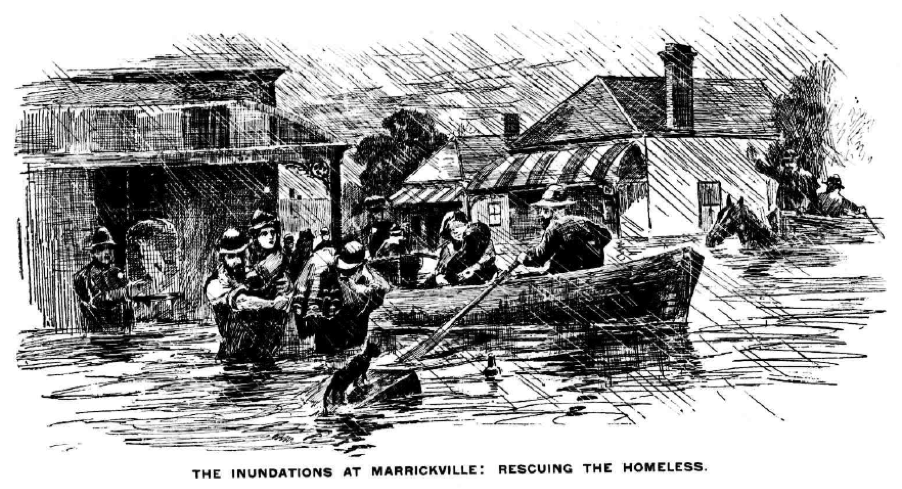 NSW Manager for General Motors in the 1920s, Mr JF Potter, must have been looking for a site to establish General Motors as an industrial showpiece. He chose Carrington Road Marrickville. But why? How did this and other parts of Marrickville become a powerhouse of Australian manufacturing?
One thing you might know is that Carrington Road floods every now and again. There's a reason for this. It's built over the former Gumbramorra Swamp. The swamp drained south to the Cooks River, and in the early 1800s was a wild and dangerous place where escaped convicts and bushrangers hid. Later, some parts were turned into brickworks and farms, including dairy farms and market gardens around Carrington Road.
In the 1880s, the swamp was developed as a residential area Tramvale. Tramvale became known for flooding with stagnating stormwater and sewage from surrounding suburbs of Petersham, Enmore, Newtown, St Peters and Dulwich Hill. One resident describes the area's "ever-flowing sewers reeking with the germs of typhoid" and a "poisonous stench arising from sewage, tannery waste and decaying vegetable matter". Severe floods were frequent, Newspapers reported flooding at Tramvale in 1885, 1889, 1890, 1891, 1897, 1905 and 1915! One article from the Herald on 2 June 1897 highlights:
Flood are only too frequent upon Tramvale, one portion of which is known as "Mud Flat"… About 8 o'clock the flood was at its height, and streets and footpaths had disappeared beneath a broad sheet of water. The water was 4 ft deep in a cottage near the corner of Meeks-road and Renwick-street, but the occupants refused to leave it…
(This part of Meeks-road was renamed as Carrington Road in 1901. Another day we might have a guess about who that independent occupant might be!)
Extensive engineering eventually brought relief from these disasters. Stormwater drains, a major sewerage pumping station and removal of the Cooks River dam reduced the severity and frequency of flooding.
Local aldermen fixed on plan to transform these flooded flats into a busy manufacturing centre. Council held an exhibition in 1922 to promote its vision and attract some of the best industries of the State, including one can't help thinking, General Motors. Read about these manufacturing aspirations at the 1922 Exhibition for yourself.