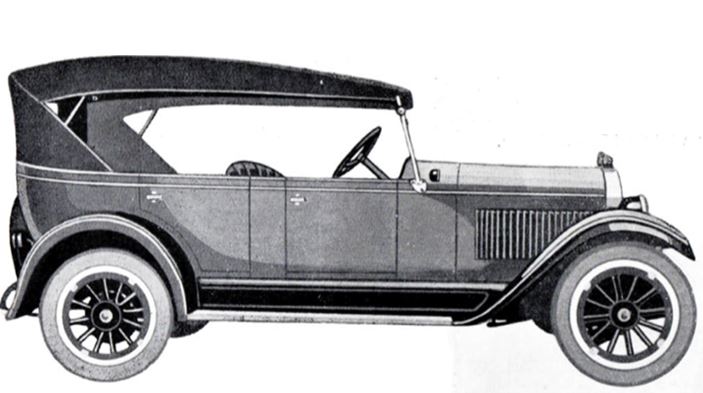 Pontiac Six, Motor Progress, No. 1, October 1926
So General Motors actually made cars in Marrickville? Yes! When you think about the car industry in Australia, you probably think Victoria and South Australia but cars were made across Australia for most of the Twentieth Century. The General Motors Australia assembly plant on Carrington Road Marrickville supplied cars to all of New South Wales.
On opening of the plant in November 1926, a car could be completed in just 30 minutes. Then by May 1927, a car was rolling off the assembly line every ten minutes. On 23 August 1927, the plant celebrated its 10,000th car in just the first nine months. It was a Pontiac Six.
Convertibles, family cars and commercial trucks were all made at the Marrickville plant. We've put together a list of the vehicles from trade publications and newspaper articles (below). General Motors cars from the 1920s like Chevrolet, Cadillac and Vauxhall are still well known to this day.
General Motors' extensive range was the part of corporate strategy by American millionaire William C Durant. Mr Durant started General Motors in 1908. You can read about how he did this here. General Motors maintained its brands' identities and this continued when General Motors purchased one of its major Australian suppliers, Holden in 1931. But more about that another time!
General Motors Australia Product Examples 1926-1929
1926 Pontiac Six
1926 Chevrolet
1927 Buick: Standard Four-Door Sedan & Master Sports Touring
1927 Chevrolet: Four-Door Sedan, Roadster, Sports Roadster, Tourer, Two-Door Sedan
1927 Cadillac La Salle
1927 Oldsmobile Coach
1927 Chevrolet: Passenger Utility, Ton Truck, Commercial Closed Parcels Van
1928 Buick
1928 Oldsmobile Tourer
1928 20-60 Vauxhall Six
1928 Silver Anniversary Buick: Sports Roadster, Seven Passenger Sedan, Limousine Sedan, Four Passenger Deluxe Sedan, Five Passenger Four-Door Sedan, 29-55 Sports Tourer, 29-49 Seven Passenger Tourer
1928 Cadillac: 5 Passenger Sedan, 2 Passenger Convertible Coupe, 7 Passenger Imperial Sedan, 7 Passenger Sedan, La Salle 7 Passenger Imperial Sedan, La Salle 7 Passenger Sedan, La Salle 5 Passenger Family Sedan
1929 New Oakland: Four-Door Sedan, Phaeton, Landaulet, Sports Coupe
1929 Chevrolet: Sports Roadster, New Sedan, Landeau Sedan, Business Coupe, Tourer, Convertible Coupe
GMC trucks