Remember all those nuts and bolts General Motors used on Carrington Road Marrickville? These could have come straight from the Duly & Hansford factory two doors down.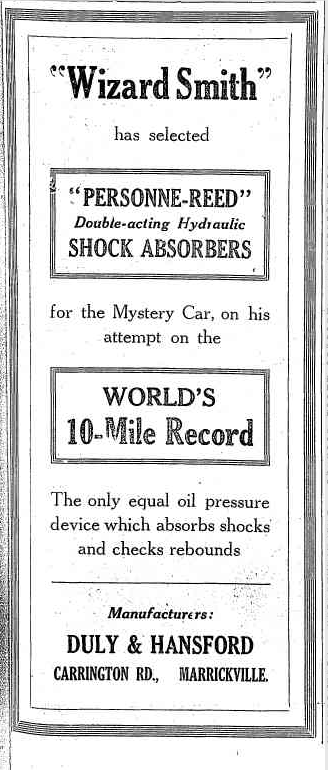 Duly and Hansford opened its factory on 1 February 1927, when Mr Duly boasted the firm was "now in a position to supply the wants of the whole of Australia with bright nuts and bolts." This impressed Federal Minister for Trade and Customs, Mr Herbert Pratten, who officially opened the factory. Pratten was a supporter of local industry and Australian-made products. He said, "if you buy the home-made article you keep both your goods and your money. If you buy outside all you get is the goods."
Duly & Hansford soon expanded to springs and shock absorbers including Duofor and Personne-Reed brands. These were used by racing hero Wizard Smith in an attempt to break the land speed record according to an ad taken out by Duly & Hansford in the Sunday Times on 3 November 1929.
The Mystery Car (also known as ANZAC) was a 18.7 litre aircraft engine made by Rolls Royce mounted on a Cadillac limousine chassis with a streamlined racing car body (Eric North, 2004). Wizard Smith set the Australasian record at 90 Mile Beach near Auckland with a speed of 239 km per hour in January 1930. For more on Wizard Smith, see Clinton Walker (2012) Speed, Modernism and the Last Ride of Wizard Smith.
Duly & Hansford continued manufacturing automotive parts on Carrington Road Marrickville until 1968 when taken over by US automotive firm, TWR Inc, which operated the factory for another three decades. Duly & Hansford's factory buildings are still used by the automotive industry today through repair and body shops.