BALMAIN CATHOLIC CEMETERY                                                                                Leichhardt's best kept secret
Balmain Catholic cemetery was located on 4 acres that now houses St. Columba's church and presbytery, a primary school, associated buildings and a child care centre, originally built as a convent for the Sisters of St. Joseph, who taught at the school. The cemetery opened in 1868 and closed in 1902 and was progressively built over. There is no physical evidence that a cemetery ever existed there.
The story of the cemetery begins with the arrival of two men in 1818 at different times and on different ships, one of those was a young man who had studied law in England, had qualified as a solicitor and who came to New South Wales to make his fortune, he quickly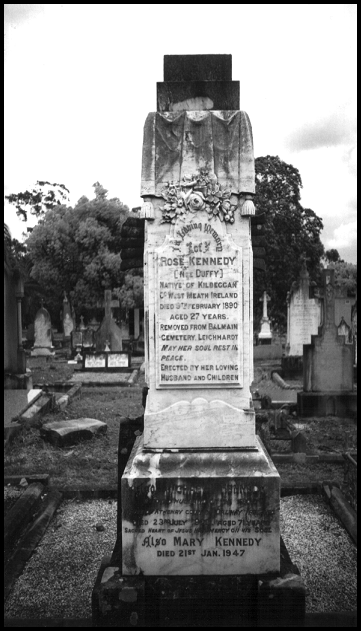 opened a legal practice in Sydney, became very successful, eventually becoming a member of the NSW Legislative Assembly, His name was James Norton. In 1834 Norton bought a large gentleman's estate, known as the Eastwick Estate and which included a large house, befitting for a wealthy gentleman known as Eastwick House. The estate was roughly bounded by Parramatta Rd, Balmain Rd. Derbyshire St. William St. and Flood St. back to Parramatta Road.