BALMAIN CATHOLIC CEMETERY                                                                                Leichhardt's best kept secret
Balmain Catholic cemetery was located on 4 acres that now houses St. Columba's church and presbytery, a primary school, associated buildings and a child care centre, originally built as a convent for the Sisters of St. Joseph, who taught at the school. The cemetery opened in 1868 and closed in 1902 and was progressively built over. There is no physical evidence that a cemetery ever existed there.
The story of the cemetery begins with the arrival of two men in 1818 at different times and on different ships, one of those was a young man who had studied law in England, had qualified as a solicitor and who came to New South Wales to make his fortune, he quickly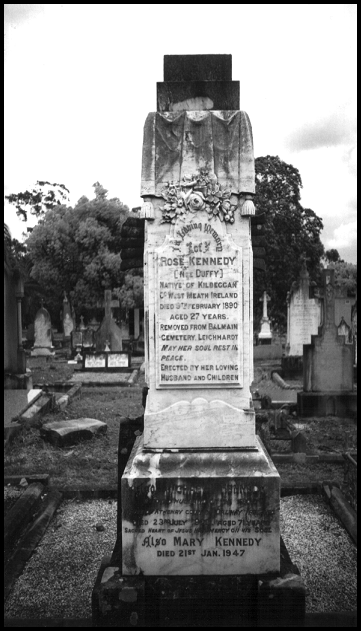 opened a legal practice in Sydney, became very successful, eventually becoming a member of the NSW Legislative Assembly, His name was James Norton. In 1834 Norton bought a large gentleman's estate, known as the Eastwick Estate and which included a large house, befitting for a wealthy gentleman known as Eastwick House. The estate was roughly bounded by Parramatta Rd, Balmain Rd. Derbyshire St. William St. and Flood St. back to Parramatta Road.
By 1818 there were about 10,000 Catholic convicts in the colony, with no priest to tend to the[r religious needs, so the Colonial Office in London sent two priests to the colony, one of those priests went immediately to Tasmania and spent most of the rest of his life there, the other priest was Fr. John Joseph Therry, whose parish for some time was all of the east coast of the Colony. Therry was a man of action, he built many churches and schools, he built he first St. Mary's Cathedral, on the site of today's Cathedral,    and he campaigned very hard for his parishioners and was often a thorn in the side of the Colonial Govt. Many historians regard Therry as the founder of the Catholic Church in Australia. In the later part of his life he was appointed parish priest of St. Augustines at Balmain, where he immediately begins searching for land to establish a local Catholic cemetery and began negotiating with James Norton for a block of land on the Eastwick Estate. Eventually agreement was reached about a 4 acre block on a little used part of the estate, a handshake sealed a gentleman's agreement, a deposit was paid but as the official registration was not introduced until 1864 there was little 'official' documentation. Both Norton (1862) and Therry (1864) died before the 'deal' was finalised and as there was no official paperwork it took some years to sort out the paperwork, which eventually became the Balmain Catholic cemetery. The cemetery opened in 1868 before the Leichhardt municipality was created in 1871 and when the whole area was part of the Balmain municipality, hence the cemetery being known as Balmain Catholic cemetery. The cemetery closed in 1902 and was progressively built over and the burial records have been lost.  For many years I have been, as much as is possible re-creating a burial register, with 1350 burials discovered to date, as building continues over the ensuing years some remains and or headstones were moved to other cemeteries, but the majority of those buried at this cemetery remain in their last resting place and are underfoot almost wherever you walk.
The first known burial was Catherine Leahy, who was buried on 16 September 1868, Catherine had fallen from the cliff at South Head near the Macquarie lighthouse, Catherine was wearing only a scarf and her shoes when her body was recovered from the sea by a fishing boat, an inquest was held into her death the next morning. Evidence was given that Catherine and a girl friend had met two men the previous night and had agreed to go on a day out the next day, a horse drawn taxi and driver were hired and they all journeyed to Watsons Bay, had lunch at the local hotel, much alcohol was consumed and they all journeyed to the lighthouse, evidence was given that Catherine's hat had blown to the edge of the cliff and when she tried to retrieve it, she slipped and fell. I will leave to the imagination of the reader what the circumstances might have been, A verdict of accidental death caused by drunkenness was recorded and Catherine was buried later that day.
The last recorded burial was of Eileen Margaret A. O'Reilly an infant (a child under the age of one) infant mortality was very high in the years the cemetery was open. Of the burials recorded to date about 25% were infants Eileen Margaret was buried on 27 November 1902. There are nine other O'Reilly's buried in Balmain Catholic cemetery, The saddest record of infant deaths in this cemetery involves the McGuire family, seven children were born in the years that the cemetery was open and only one survived to reach the age of five, her six siblings are all buried here. The surviving child eventually married and had children of her own.
People from every strata of society are buried here, Catherine Leahy was buried as a pauper, because of Balmain's industrial heritage the majority are likely to be every day working class people with a smattering of wealthy business people like the Tancred's, who for many years were the largest wholesale meat distributors in NSW. There are 22 Tancreds buried here. John Greenway Punch seems likely to have been another well off person. He was a master mariner, ship owner and businessman who also became an alderman and mayor. John Greenway, his wife Mary and their son John G Jnr. were all buried here, with their remains and possibly their headstone being moved to Northern Suburbs cemetery in 1930. This is the last known re-interment from Balmain Catholic, with most going to Rookwood cemetery.
I trust you enjoyed this article. . My search for burials is drawing to a close, but I am always delighted to hear from anyone who can add information about burials here or have questions, I am especially delighted to check on possible burials and to hear from anyone who may have someone in this cemetery or would like to know more about Balmain Catholic, send me an email at balcolyn@activ8.net.au  Patrick Callaghan