John Young "The Eminent Australian Builder"
John Young master builder, engineer and masoner, erected a row of notable and original houses in Annandale, situated along Johnston Street. Six of these houses remain to be significant historically and architecturally: Nos 260-272 Johnston Street are: Kenilworth, Highroyd, Hockingdon, the now demolished Claremont, Oybin, Greba and The Abbey.
Kenilworth: 260 Johnston Street, built 1888-1889 The house Sir Henry Parkes rented for the last years of his life and died there in 1896. Originally there was another identical house called "Claremont" at 258 Johnston Street, which was demolished in 1967. This pair of houses featured a centre spire. The design of the four original "Witches Houses" display Gothic and Romanesque features which are likely the work of architect John Richards. It is thought the homes were dubbed the "Witches Houses" from the resemblance of the silhouettes of the towers to witches hats.
Highroyd & Hockingdon 262, 264 Johnston Street, 1888-1890. Hockingdon and Highroyd were built as a pair, to provide an income for Young's daughters, Annie and Nellie, although they never lived there. These two houses featured side spires, unlike the other two "Witches Houses".
Oybin: 270 Johnston Street, Annandale Situated next to the Abbey Oybin was built for the architect C.H.E Blackmann who occupied it from 1881 to 1885. A handsome example of the Victorian Italliannate villa, the home features a square tower over the front enterance, a typical feature of houses built in the 1880s in Annandale and nearby suburbs.
The Abbey
The Abbey is the most notable and renowned of the houses built by John Young,  It has been suggested that the architect may have been William Wardell (architect of St Mary's Cathederal) in conjunction with Young. The Abbey has been described as a stone Gothic Revival mansion, modelled on a Scottish manor. Young gave his imagination free rein and the house incorporates gables, arches, gargoyles, lions, quatrefoils, chimneys, turrets, a cloister and a tower with copper cladding (it was rumoured that Young may have stolen gargoyles from St Mary's Cathedral, which he built, but there was no proof). Young was the highest ranking Mason in Australia and The Abbey incorporates Masonic themes. It is possible that the building may have been used by Young as a Masonic Lodge. After Young's death, The Abbey was occupied by a series of tenants, who subdivided the house to create flats and flatettes. A new owner acquired the house in 1959 and restored it. It is now on the Register of the National Estate.[1]
Kentville
Kentville, was built as John Young's home, in a three-hectare garden setting adjacent to Rozelle Bay. The land was bought by Young in 1877, and included a cottage built by Robert Johnston. Young enlarged the cottage and named it Kentville after his home county in the UK. He also built a bowling green on the land and opened it to the public – thought to be Sydney's first lawn bowls green. Young hoped that the Annandale area would be fine enough to rival places like Darling Point – a suburb for the "genteel" classes – but by 1895 Annandale was referred to as a "working man's suburb", similar to its neighbouring inner-city suburbs, with workers housing interspersed with manufacturing industry. John Young's vision for Annandale was never realised.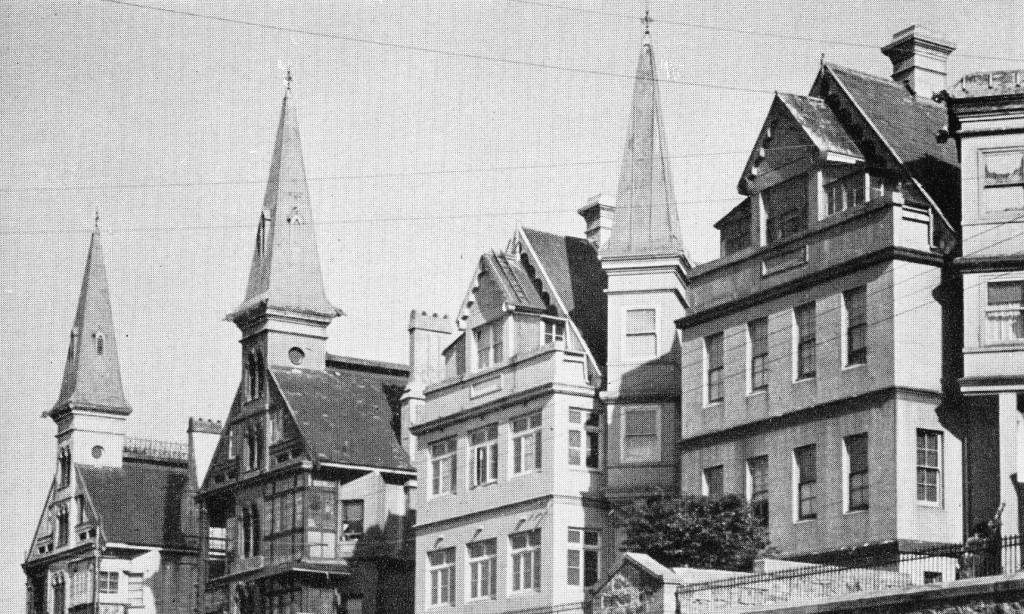 This image taken in 1952 shows number 262-268 Kenilworth, Highroyd, Hockingdon, Greba.
References
1. The Heritage of Australia, Macmillan Company, 1981, p.2/34
2. The Annandale Association Newsletters.
3. Annandale – Buildings file in Leichhardt Local History collection.
Current News on the Houses of Sir John Young