Both History Week Walking Tours were a great opportunity to explore the honour boards and memorials of Leichhardt and Balmain the weather was brilliant and an engaging group of attendees enjoyed the tour.
Balmain WW1 walking tour began with a tour of loyalty square which claims the fame of being the first memorial to be erected in the midst of WW1. It was unveiled on 23 April 1916 just before the first anniversary of the Gallipoli landing.
Stop 1. Balmain Loyalty Square
This is possibly Australia's first memorial to WW1 soldiers, unusual because it lists only those killed in action prior to the involvement of the AIF on the Western Front in France.  It was unveiled on 23 April 1916 just before the first anniversary of the Gallipoli landing to record the names of soldiers form this district who have fallen in the service of the Empire. It was the subject of a a Balmain Council design competition in 1915.
A functional structure it was built as a drinking fountain with a circular base and steps of Bowral trachyte and a four sided superstructure of Pyrmont Sandstone.  Balmains dead 38 at the time of its completion are honoured on four marble tablets, below which are four bowls . It is interesting that on later honour roll honour in the Balmain Town Hall there were then 1500 names of serving soldiers.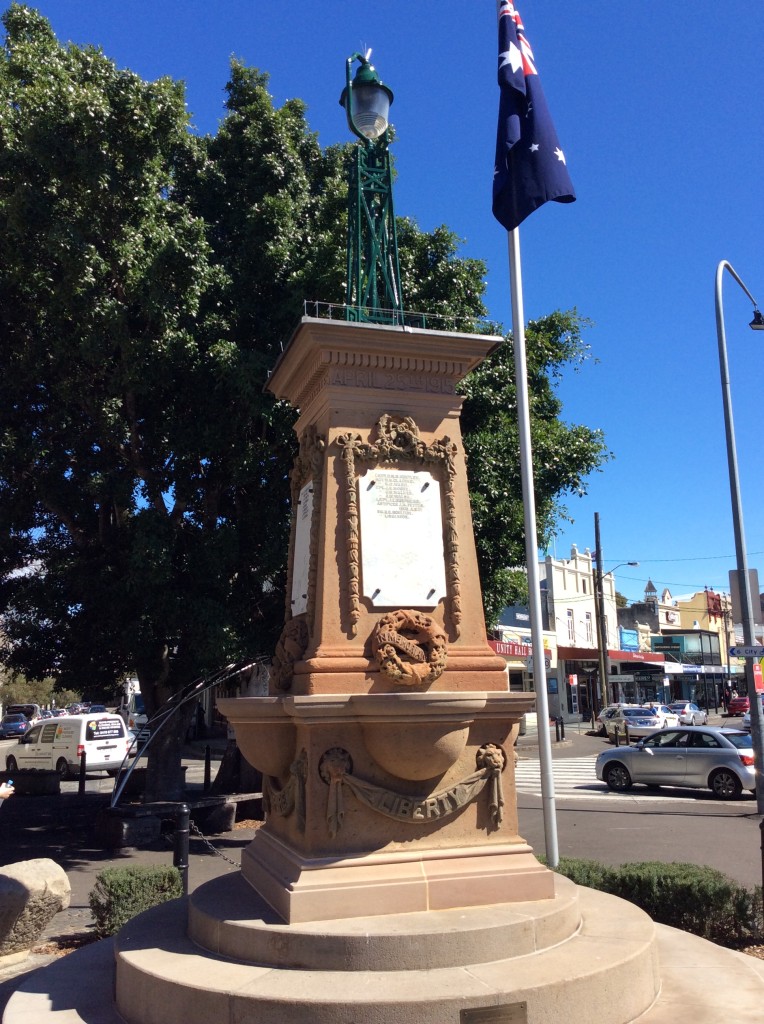 Our 2nd stop was at the Balmain Rowing Club which displays an honour roll with 73 names of Balmain Men who were members of the Balmain Rowing Club including 11 of which were killed in action including John Booth who lived at 54 Glassop Street, Balmain, Sydney, New South Wales and who enlisted on 16 March 1915.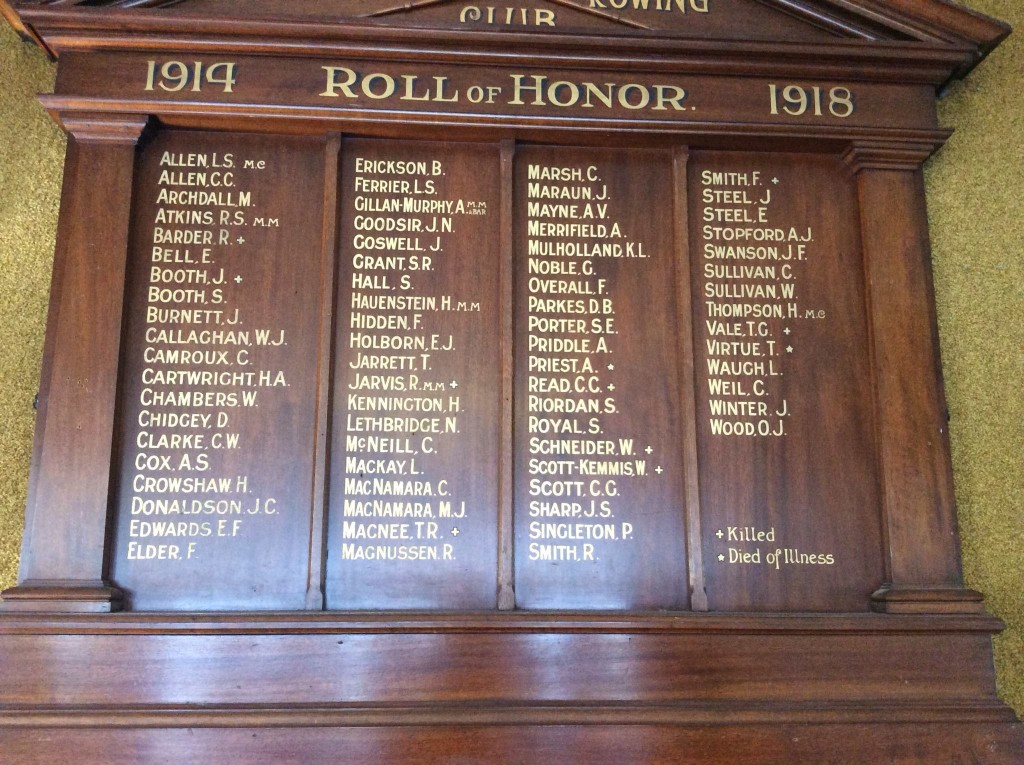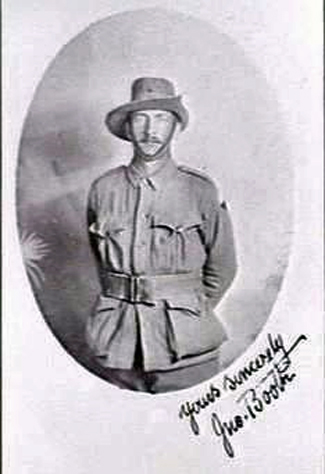 Private John Booth was a shipwright of Balmain, Sydney, New South Wales was 28 years old when he enlisted at Liverpool, 16 Mar. 1915. He embarked from Sydney on board HMAT A35 Berrima, 25 June 1915 and served with the 20th Battalion, 5th Machine Gun Company A.I.F. at Gallipoli and in Egypt and France. He was killed in action in Belgium, Oct. 1917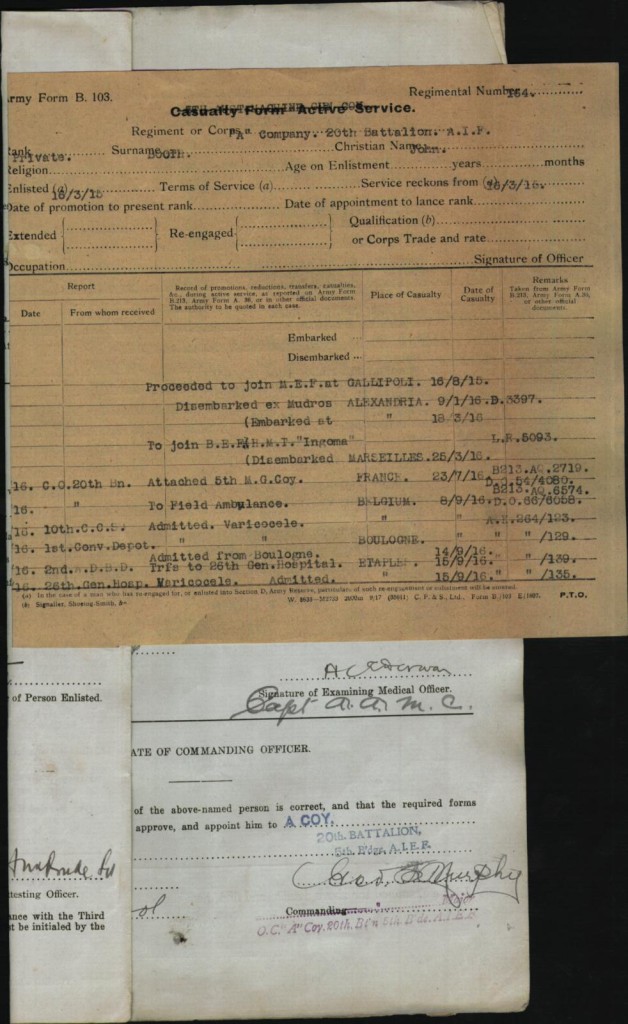 His Diary can be found on the State Library NSW Website here
A full list of the men mentioned on the Balmain honour board can be found here.

Stop 3: St Andrews Church Balmain – The Soldiers Memorial Hall
19 Men are recorded on the St Andrews Church honour Board, they were members of the congregation. Approximately 1300 Men from Balmain are recorded as enlisting for WW1 on the AIF Records, this figure is increased when navy and figures are added bringing it closer to 1800 men.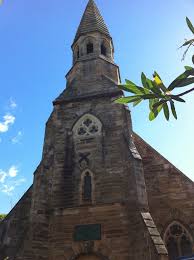 Below are the details of three men listed on the honour roll.
Thomas Rodger MACNEE
Place of birth
Balmain, New South Wales
Religion
Congregational
Occupation
Civil servant
Address
'Currawinya', Elliott Street, Balmain, New South Wales
Marital status
Married
Age at embarkation
26
Next of kin
Wife, Mrs Myra Kathleen Macnee, 'Currawinya', Elliott Street, Balmain, New South Wales
Enlistment date
16 September 1915
Rank on enlistment
2nd Lieutenant (Quartermaster)
Unit name
36th Battalion, Headquarters
AWM Embarkation Roll number
23/53/1
Embarkation details
Unit embarked from Sydney, New South Wales, on board HMAT A72 Beltana on 13 May 1916
Rank from Nominal Roll
Captain
Unit from Nominal Roll
36th Battalion
Recommendations (Medals and Awards)
Mention in Despatches

Awarded, and promulgated, 'London Gazette' No. 30706 (28 May 1918); 'Commonwealth Gazette' No. 165 (24 October 1918).

Fate
Killed in Action 12 April 1918
Age at death from cemetery records
29
Place of burial
Heath Cemetery (Plot VIII, Row J, Grave No. 18), Harbonnieres, France
Panel number, Roll of Honour,
Australian War Memorial
127
Miscellaneous information from
cemetery records
Parents: James and Mary MACNEE; husband of Mrs M.K. MACNEE
Other details
War service: Western FrontMedals: British War Medal, Victory Medal
                             

                                                       John GOODSIR

Regimental number                                668
Religion
Church of England
Occupation
Bank clerk
Address
Town Hall, Balmain, Sydney, New South Wales
Marital status
Single
Age at embarkation
21
Next of kin
Father, John Goodsir, Town Hall, Balmain, Sydney, New South Wales
Previous military service
44th Howitzer Batt
Enlistment date
19 June 1915
Rank on enlistment
Private
Unit name
30th Battalion, C Company
AWM Embarkation Roll number
23/47/1
Embarkation details
Unit embarked from Sydney, New South Wales, on board HMAT A72 Beltana on 9 November 1915
Rank from Nominal Roll
Sergeant
Unit from Nominal Roll
30th Battalion
Fate
Effective abroad (still overseas)
 

Robert Balmain MILNE

| | |
| --- | --- |
| Regimental number | 58608 |
| Religion | Presbyterian |
| Occupation | Engineer |
| Address | Balmain, New South Wales |
| Marital status | Single |
| Age at embarkation | 19 |
| Next of kin | Aunt, Jessy Milne, 5 Alexander Street, Balmain, Sydney, New South Wales |
| Previous military service | 37th Field Company Army Engineers |
| Enlistment date | 11 May 1918 |
| Rank on enlistment | Private |
| Unit name | 1st to 15th (NSW) General Reinforcements |
| AWM Embarkation Roll number | 23/111/5 |
| Embarkation details | Unit embarked from Sydney, New South Wales, on board A40 Ceramic on 22 December 1914 |
| Embarkation details | Unit embarked from Sydney, New South Wales, on board HMAT A18 Wiltshire on 19 June 1918 |
| Embarkation details | Unit embarked from Sydney, New South Wales, on board SS Feldmarschall on 19 June 1918 |
| Rank from Nominal Roll | Gunner |
| Unit from Nominal Roll | 3rd Field Artillery Brigade |
| Fate | Returned to Australia 6 September 1919 |
| Miscellaneous details (Nominal Roll) | *Noted Robert NR |